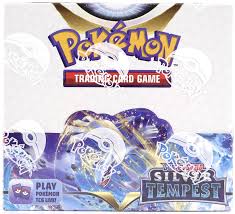 Pokémon Trading Card Game Sword and Shield Silver Tempest factory sealed booster box that contains thirty-six (x36) sealed booster packs. These were purchased from an authorized gaming distributor who purchased them directly from the Pokemon company. Factory sealed boxes will be pulled from a factory sealed case. Each booster pack includes 10 Pokémon cards, and 1 basic energy, Each player must have a 60 card deck of Pokémon cards to play.
Eligible for instore pick-up (please allow 24-48 hours for in store pick-up).
Within the Sword & Shield --Silver Tempest expansion you can try and find the 3 brand-new Radiant Pokémon, 6 awesome Pokémon VSTAR, 15 powerful Pokémon V and 1 enormous Pokémon VMAX, and 30 cards with special art in the Trainer Gallery subset.