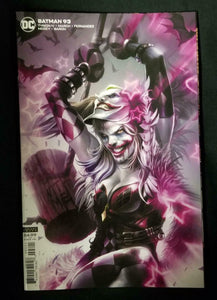 Mattina Card Stock Variant cover. Joker War Prelude. Harley Quinn on cover.
New, unread, ungraded, and estimated to be in 9.2 to 9.4 condition. Minor printing flaws or defects may be present.

***In store customers, please review our online terms of sale if purchasing online as a pre-order. If you already subscribe to this title, please do not order it again. If you have questions, or looking for a specific cover; please speak with a member of our team to arrange for a copy to be held for you without purchasing online.
Synopsis: Batman faces off with the Designer as "Their Dark Designs" reaches its epic climax! In the last year, Batman has lost more than he could have imagined, and now he faces a cost so dear it will change the course of his life. And there is worse on the horizon. In the midst of all the horror, he can feel the drumbeat of battle. "Joker War" is coming, and Gotham City will never be the same.