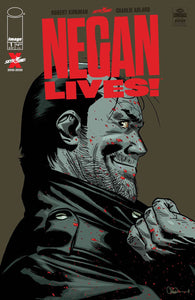 Negan Lives #1 REGULAR COVER is a 36-page, black and white comic book, available exclusively at comic book shops on Wednesday, July 1 (GOLD AND SILVER FOIL COVERS ARE NOT AVAILABLE FOR PRE-ORDER, AND ARE PREMIUMS THAT WILL BE SOLD AT PREMIUM PRICES)


New, unread, ungraded, and estimated to be in 9.2 to 9.4 condition. Minor printing flaws or defects may be present.

***In store customers, please review our online terms of sale if purchasing online as a pre-order. If you already subscribe to this title, please do not order it again. If you have questions, or looking for a specific cover; please speak with a member of our team to arrange for a copy to be held for you without purchasing online.
Synopsis: Spurned by a slowly rebuilding society, Negan lives a life of desperate isolation... or does he? In the tradition of Here's Negan, this all-new story in Negan Lives #1 gives readers a glimpse into what has happened to one of The Walking Dead's most popular characters in the time since his last appearance in The Walking Dead #174.

As long-time readers of the post-apocalyptic survival series will recall, The Walking Dead #174 proved to be a pivotal point for Negan, as he was tracked down and confronted by a vengeful Maggie, still heartbroken and furious over the murder of her husband, Glenn, in The Walking Dead #100.