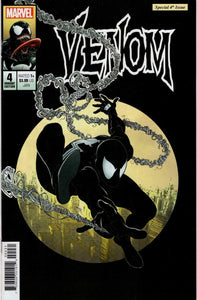 Yardin Variant cover. Homage to Amazing Spider-Man #300. 1st printing.

New, unread, ungraded, and estimated to be in 9.2 to 9.4 condition. Minor printing flaws or defects may be present.

***In store customers, please review our online terms of sale if purchasing online as a pre-order. If you already subscribe to this title, please do not order it again. If you have questions, or looking for a specific cover; please speak with a member of our team to arrange for a copy to be held for you without purchasing online.
Synopsis: The villainous LIFE FOUNDATION is back - and they have DYLAN BROCK DEAD IN THEIR SIGHTS! Led once again by the insidious Carlton Drake, the symbiote-hunting organization has larger ambitions than ever before, and with ARTHUR KRANE in the palm of their hand, they finally have the political leverage to make them a reality.