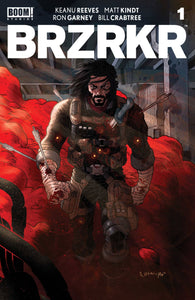 Regular cover. Final cover may differ. Logos, bar codes, titles, color variations may be added.

New, unread, ungraded, and estimated to be in 9.2 to 9.4 condition. Minor printing flaws or defects may be present.

***In store customers, please review our online terms of sale if purchasing online as a pre-order. If you already subscribe to this title, please do not order it again. If you have questions please speak with a member of our team to arrange for a copy to be held for you without purchasing online, if you do not believe you have previously subscribed.

Estimated release date is March 3rd, 2021
Discover the next blockbuster action franchise from the iconic KEANU REEVES in his Must Read comic book writing debut alongside New York Times best-selling co-writer Matt Kindt (Folklords, Bang!) and acclaimed artist Alessandro Vitti (Marvel's Secret Warriors) in a brutally violent new series about one immortal warrior's fight through the ages.
The man known only as Berzerker is half-mortal and half-God, cursed and compelled to violence...even at the sacrifice of his sanity.
But after wandering the world for centuries, Berzerker may have finally found a refuge - working for the U.S. government to fight the battles too violent and too dangerous for anyone else.
In exchange, Berzerker will be granted the one thing he desires - the truth about his endless blood-soaked existence... and how to end it.
NOTE: This is for Mature Readers