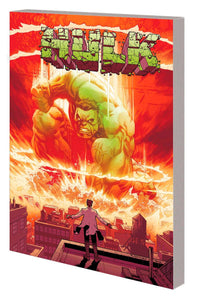 Trade Paperback collection of the 2021 Hulk series. Collects issues #1, #2, #3, #4, #5, and #6, plus bonus material.
New, unread. Minor printing flaws or defects may be present.

***In store customers, please review our online terms of sale if purchasing online as a pre-order. If you already subscribe to this title, please do not order it again. If you have questions, or looking for a specific cover; please speak with a member of our team to arrange for a copy to be held for you without purchasing online.
Synopsis: Look to the stars as the next exciting era of HULK begins! The gamma-powered creative team of Donny Cates and Ryan Ottley takes on the Hulk - and the results are sure to be incredible! The Hulk's uncontrollable rage has reached a new level - and nobody, including the Avengers, is prepared to handle it. But is it really the Hulk that people should fear, or is another factor at play? Bruce Banner thinks he finally has total control of his emerald alter ego - and in fact, he might. But variables can happen at any time, and this one is something even his brilliant mind couldn't have imagined. Now, as Bruce hurtles deep into outer space on a dangerous quest, he's about to find out that the Hulk isn't alone! 
Rated T+