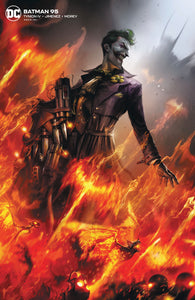 Variant cover. Final cover may differ. Logos, bar codes, titles, color variations may be added.

New, unread, ungraded, and estimated to be in 9.2 to 9.4 condition. Minor printing flaws or defects may be present.

***In store customers, please review our online terms of sale if purchasing online as a pre-order. If you already subscribe to this title, please do not order it again. If you have questions please speak with a member of our team to arrange for a copy to be held for you without purchasing online, if you do not believe you have previously subscribed.

Synopsis: It was always going to come to this. The Clown Prince of Crime and the Dark Knight Detective go head-to-head for the last time. The Joker has never wanted to win before, he's never wanted his battle with Batman to end, but now his motivation has shifted. He has decided that one way or another, this will be the final chapter to their story. "Joker War" begins here!