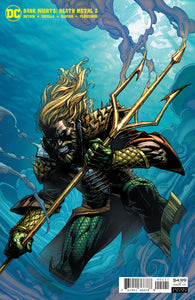 David Finch cover. 1st appearance of Robin King. 1st appearance of Darkest Knight.
New, unread, ungraded, and estimated to be in 9.2 to 9.4 condition. Minor printing flaws or defects may be present.

***In store customers, please review our online terms of sale if purchasing online as a pre-order. If you already subscribe to this title, please do not order it again. If you have questions please speak with a member of our team to arrange for a copy to be held for you without purchasing online, if you do not believe you have previously subscribed.
Synopsis: Get ready to scream! Wonder Woman roars across the horrifying Dark Multiverse landscape in the world's most demented monster truck, with Swamp Thing riding shotgun! The two arrive at the ghoulish cemetery base of Batman and his army of zombies, but can the former friends stand each other long enough to form a plan and take back the planet? Plus, what's Lobo doing in space? Don't miss the second chapter of the wildest ride in the DC Universe, from the epic team of writer Scott Snyder and artist Greg Capullo!