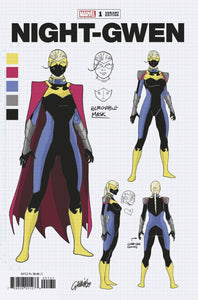 Retailer Ordering Incentive variant cover that ships 1 for every 10 copies of the regular cover ordered.
New, unread, ungraded, and estimated to be in 9.2 to 9.4 condition. Minor printing flaws or defects may be present.
***In store customers, please review our online terms of sale if purchasing online as a pre-order. Or speak with a member of our team to arrange for a copy to be held for you without purchasing online.
Synopsis: Introducing Nightbird! By day, Dr. Gwendolyn Stacy is Ravencroft Asylum's leading psychiatrist. But by night, she dons the guise of the vigilante known as Nightbird! But how did this happen? Why did this happen? And what does Kyle Richmond, the Nighthawk, have to do with it? There may not be any time to find out, because Nightbird must hunt down a new killer called the Jackal!