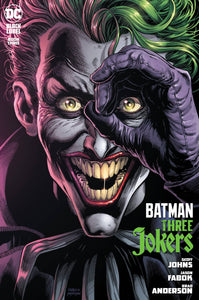 Regular cover. Final cover may differ. Logos, bar codes, titles, color variations may be added.

New, unread, ungraded, and estimated to be in 9.2 to 9.4 condition. Minor printing flaws or defects may be present.

***In store customers, please review our online terms of sale if purchasing online as a pre-order. If you already subscribe to this title, please do not order it again. If you have questions please speak with a member of our team to arrange for a copy to be held for you without purchasing online, if you do not believe you have previously subscribed.
Synopsis: The final chapter of the most terrifying and personal Batman mystery is here!
Still reeling from their last encounter with the three Jokers, Batman, Batgirl, and Red Hood discover the terrible truth about the Three Jokers' plot. Will the caped crusaders have the strength needed to put an end to the maniacal menaces' master plan once and for all, or will it be lights out for good? You won't want to miss the stunning conclusion of Batman: Three Jokers as it completes its trajectory as the ultimate examination of The Joker and his never-ending conflict with Batman.