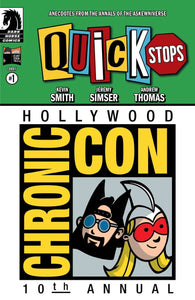 Quick Stops #1 Local Comic Shop Day 2022 Exclusive Variant
New, unread, ungraded, and estimated to be in 9.2 to 9.4+ condition. Minor printing flaws or defects may be present.
Synopsis: Enter the Askewniverse when pop culture nuisance Kevin Smith's brand-new anthology series opens for business, telling tall tales from the Jersey world of his classic comedies!

In this premiere issue, Chronic-Con guest of honor Holden McNeil tells Alyssa Jones and a packed podcast audience his story of going green with legendary loiterers Jay and Silent Bob in the Quick Stop cooler, and how it directly led to the birth of his Bluntman and Chronic comic books!