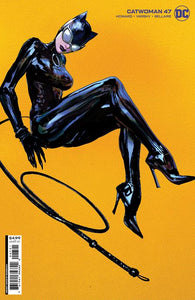 (W) Tini Howard (A) Nico Leon (CA) Sozomaika
Catwoman #47 Card Stock variant cover. 1st Printing
New, unread, ungraded, and estimated to be in 9.2 to 9.4 condition. Minor printing flaws or defects may be present.

***In store customers, please review our online terms of sale if purchasing online as a pre-order. If you already subscribe to this title, please do not order it again. If you have questions, or looking for a specific cover; please speak with a member of our team to arrange for a copy to be held for you without purchasing online.
Synopsis: Things start to heat up between Valmont and Catwoman when the handsome devil in white shows Catwoman a grand gesture by taking her on a trip out of Gotham. How many high-roller cities can these two cat burglars hit for a score in one night? A crow in white and a bat in black—if only there was a moral gray zone for this one cat.