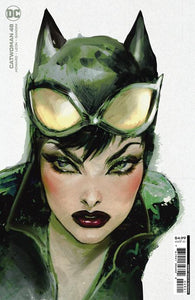 (W) Tini Howard (A) Nico Leon (CA) Sozomaika
Catwoman #48 Card Stock variant cover. 1st Printing
New, unread, ungraded, and estimated to be in 9.2 to 9.4 condition. Minor printing flaws or defects may be present.

***In store customers, please review our online terms of sale if purchasing online as a pre-order. If you already subscribe to this title, please do not order it again. If you have questions, or looking for a specific cover; please speak with a member of our team to arrange for a copy to be held for you without purchasing online.
Synopsis: Don't you just hate it when your current and former lovers meet accidentally? That's definitely the case here for Catwoman, as Valmont and Batman cross paths! Is Batman jealous or just concerned that Selina is dating an international criminal who is also a murderer? There are some lines you just don't cross, Cat, and not all attention is good attention.