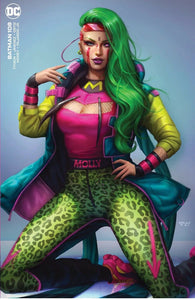 Limited Edition Comix Exclusive Virgin Variant by Sun Khamunaki. Card Stock Variant cover Limited to 1500 copies. 1st appearance of Miracle Molly. Final cover may differ. Logos, bar codes, titles, color variations may be added.

New, unread, ungraded, and estimated to be in 9.2 to 9.4 condition. Minor printing flaws or defects may be present.
***In store customers, please review our online terms of sale if purchasing online as a pre-order. If you already subscribe to this title, please do not order it again. If you have questions please speak with a member of our team to arrange for a copy to be held for you without purchasing online, if you do not believe you have previously subscribed.
Synopsis: Batman goes undercover to infiltrate the transhumanist gang known as the Unsanity Collective and learn more about their sudden appearance in Gotham. And what nefarious plans does Simon Saint have for Arkham Day survivor Sean Mahoney? How does it connect to the Magistrate? And in part two of the action-packed, bone-rattling Ghost-Maker backup story...can our hero stand up to the horror of Kid Kawaii?
Plus, don't miss the debut of the mysterious Miracle Molly!