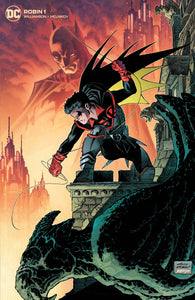 Adam Kubert Card Stock Team Variant Cover
New, unread, ungraded, and estimated to be in 9.2 to 9.4+ condition. Minor printing flaws or defects may be present.
***In store customers, please review our online terms of sale if purchasing online as a pre-order. If you already subscribe to this title, please do not order it again. If you have questions please speak with a member of our team to arrange for a copy to be held for you without purchasing online, if you do not believe you have previously subscribed.
Synopsis: After learning of the deadly League of Lazarus tournament, Damian Wayne has a new mission: winning the tournament and prove he is the greatest fighter in the DC Universe! But first he must find the secret island where it's all going down! This brand-new solo Robin series will force Damian Wayne to find his own path away from both sides of his family! New mysteries! New supporting cast! First appearances of new characters! And lots of fights!