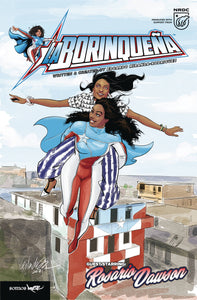 Del Duca Variant cover, 1st printing, English, 72 pages

Eisner's Humanitarian Award winner Edgardo Miranda-Rodriguez (Ricanstruction) returns with his original character La Borinqueña to team-up this time with actor/activist Rosario Dawson. This original story written by him is illustrated by Will Rosado, colored by Chris Sotomayor, and features cover art by Rita Fei. Published by Somos Arte with support from the Natural Resources Defense Council (NRDC). Proceeds from the sales go to the La Borinqueña Grants Program.

***In store customers, please review our online terms of sale if purchasing online as a pre-order. If you already subscribe to this title, please do not order it again. If you have questions please speak with a member of our team to arrange for a copy to be held for you without purchasing online, if you do not believe you have previously subscribed.