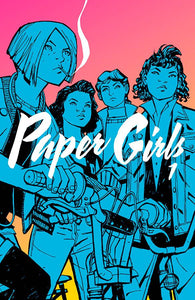 The Amazon TV series is based upon this Image comic book by Brian K Vaughn. Price discounted in store as well as online. 144 pages. New, unread. Minor printing flaws or defects may be present.
Synopsis: From Brian K. Vaughan, #1 New York Times bestselling writer of SAGA, and Cliff Chiang, legendary artist of WONDER WOMAN, comes the first volume of an all-new ongoing adventure.

In the early hours after Halloween of 1988, four 12-year-old newspaper delivery girls uncover the most important story of all time. Suburban drama and otherworldly mysteries collide in this smash-hit series about nostalgia, first jobs, and the last days of childhood.

Collecting Issues #1-5 for only $9.99!