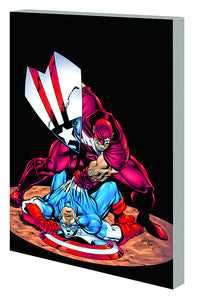 New condition.
Written by DAN JURGENS & BILL ROSEMANN
Penciled by DAN JURGENS, GREG SCOTT, SCOT EATON & DAVE ROSS
Cover by DAN JURGENS
Dan Jurgens continues chronicling some of the First Avenger's greatest adventures yet! When Captain America comes face-to-face with Protocide, he learns everything he knew about his origin is wrong! And Steve Rogers' girlfriend, Connie Ferrari, gets caught in the middle of an A.I.M. plot! Plus: Batroc, Hydra, Mercurio, the Crimson Dynamo, S.H.I.E.L.D. and Nick Fury! Collecting CAPTAIN AMERICA (1988) #35-44 and ANNUAL 2000.