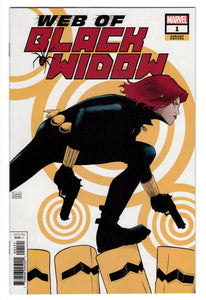 Retailer Ordering Incentive variant cover that ships 1 for every 50 copies of the regular cover ordered.
New, unread, ungraded, and estimated to be in 9.2 to 9.4 condition. Minor printing flaws or defects may be present.
***In store customers, please review our online terms of sale if purchasing online as a pre-order. Or speak with a member of our team to arrange for a copy to be held for you without purchasing online.
Synopsis: One of Marvel Comics' longest-running female heroes finally gets her due! Natasha Romanoff is the deadliest spy in the Marvel Universe and the beating heart of the Avengers. But when a mysterious figure starts exploiting her past, the Widow may have to go back to Black - and off the grid. Who can she trust in this web of deceit? And more importantly - can her friends trust her? Don't miss the spy tale of the century!
Rated T+