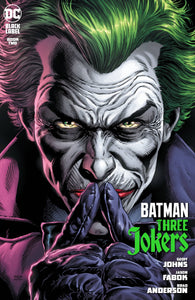 1st printing, main cover.
Synopsis: As Batman and Batgirl follow an unexpected thread linking the three Jokers with someone from the Dark Knight's past, Red Hood dives headfirst into trouble and finds himself struggling to stay afloat without the aid of his allies.<br> Batman: Three Jokers continues its trajectory as the ultimate examination of The Joker and his never-ending conflict with Batman. Prepare yourselves for the second chapter of one of the most terrifying and personal mysteries Batman has ever faced!
New, unread, ungraded, and estimated to be in 9.2 to 9.4 condition. Minor printing flaws or defects may be present.

***In store customers, please review our online terms of sale if purchasing online as a pre-order. If you already subscribe to this title, please do not order it again. If you have questions, or looking for a specific cover; please speak with a member of our team to arrange for a copy to be held for you without purchasing online.