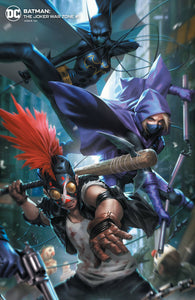 Derick Chew variant cover. One-shot, stand alone issue with a $6.99 cover price. Features a Joker War Epilogue story, and a prelude story to the John Ridley Batman series.
Synopsis: Gotham City is a battleground as The Joker takes over the Wayne fortune and wages a street war against the Dark Knight and his allies! Enter the "war zone" with short stories featuring characters like Cassandra Cain, Stephanie Brown, and Luke Fox and see how they're fighting back in a city under siege! Also, the brutal full debut of the mysterious new anti-hero known as Clownhunter!
New, unread, ungraded, and estimated to be in 9.2 to 9.4 condition. Minor printing flaws or defects may be present.

***In store customers, please review our online terms of sale if purchasing online as a pre-order. If you already subscribe to this title, please do not order it again. If you have questions, or looking for a specific cover; please speak with a member of our team to arrange for a copy to be held for you without purchasing online.