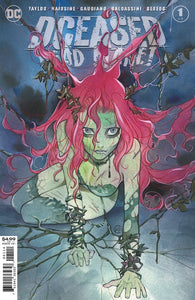 4th printing featuring a brand new cover by Peach Momoko
Synopsis: After a corrupted Anti-Life Equation turned billions into monsters - including Earth's Greatest Heroes - our planet was as good as dead. Years later, a distress call brings Damian Wayne, Jon Kent, and Cassie Sandsmark - the Batman, Superman, and Wonder Woman of Earth 2 - back to a dead planet... but what will this new Justice League find waiting for them? If life still exists on Earth, who - or what - is lying in wait for these heroes? The original creative team of Tom Taylor and Trevor Hairsine reunite for the sequel to the 2019 blockbuster series DCeased!
New, unread, ungraded, and estimated to be in 9.2 to 9.4 condition. Minor printing flaws or defects may be present.

***In store customers, please review our online terms of sale if purchasing online as a pre-order. If you already subscribe to this title, please do not order it again. If you have questions, or looking for a specific cover; please speak with a member of our team to arrange for a copy to be held for you without purchasing online.