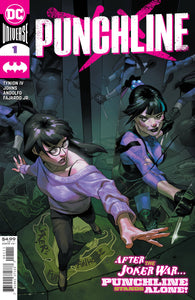 New, unread, ungraded, and estimated to be in 9.2 to 9.4 condition. Minor printing flaws or defects may be present.

***In store customers, please review our online terms of sale if purchasing online as a pre-order. If you already subscribe to this title, please do not order it again. If you have questions, or looking for a specific cover; please speak with a member of our team to arrange for a copy to be held for you without purchasing online.

Regular cover. Final cover may differ. Logos, bar codes, titles, color variations may be added.

Synopsis: Spinning out of the pages of "The Joker War" comes the first solo book starring the blockbuster new character Punchline. As she faces the consequences for her role in "The Joker War," the story of how Alexis Kaye became Punchline will take Leslie Thompkins, Harper Row, and Cullen Row on a harrowing journey that reveals a fringe teenager's radicalization to the ideology of a madman. It's a terrifying tale so big it demanded an oversize special issue!