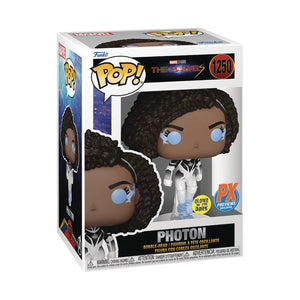 Pop The Marvels Photon Glow-In-The-Dark PX Exclusive 3.75"
Item is in like new condition, with the box being free of any major defects.
A PREVIEWS Exclusive! Blast off on a new galactic adventure with Monica Rambeau as Funko Pop! Photon as she masters her newfound powers and reunites with Carol Danvers in The Marvels! Fans can unite the cosmic team from the upcoming Marvel Studios' feature film with this exclusive, glow-in-the-dark hero. This limited edition, collectible bobblehead stands approximately 4.8" tall and comes in a collector-friendly window box. Get ready to launch your collection to galaxies beyond imagination with the dazzling glow-in-the-dark PREVIEWS Exclusive Pop! Photon! Limited to 15,000 pieces.