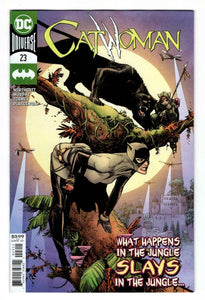 1st Printing, 1st appearance of Catgirl, 2nd appearance of Snowflame, Sean Gordon Murphy story
New, unread, ungraded, and estimated to be in 9.2 to 9.4 condition. Minor printing flaws or defects may be present.

***In store customers, please review our online terms of sale if purchasing online as a pre-order. If you already subscribe to this title, please do not order it again. If you have questions, or looking for a specific cover; please speak with a member of our team to arrange for a copy to be held for you without purchasing online.
Synopsis: Even Catwoman needs a break from the city sometimes! Featuring a story by
Eisner Award winner Sean Murphy (Batman: White Knight) and the DC debut of co-writer Blake Northcott (Vampirella), join Catwoman on this two-part story as she leaves for the jungle to blow off some steam in the best way she knows how...stealing the world's largest diamond from an annual super-secret supervillain auction, of course!