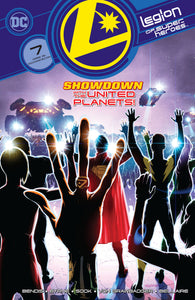 Regular cover.
Final cover may differ. Logos, bar codes, titles, color variations may be added.
New, unread, ungraded, and estimated to be in 9.2 to 9.4 condition. Minor printing flaws or defects may be present.

***In store customers, please review our online terms of sale if purchasing online as a pre-order. If you already subscribe to this title, please do not order it again. If you have questions please speak with a member of our team to arrange for a copy to be held for you without purchasing online, if you do not believe you have previously subscribed.

Estimated release date is July 29th, 2020.
Synopsis: Jonathan Kent, intergalactic fugitive! The United Planets is less than thrilled with the decision to bring Superboy a thousand years into the future to protect the past. Planet Gotham is under siege. Ultra Boy's homeworld is on the verge of all-out war. And as if that weren't enough, new Legionnaire drama unfolds as Saturn Girl and Cosmic Boy throw down over who should take on the Legion's leadership! Plus, Brainiac 5 will reveal a secret that will make one Legionnaire quit the team-and we ask the burning question: Who is the strongest Legionnaire? Find out in the only book telling you the future of the DC Universe every month!