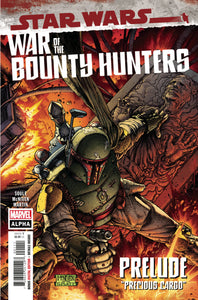 Main cover. Introduction of the Black Mandalorian armor. 1st appearance of Doc Ragon. Final cover may differ. Logos, bar codes, titles, color variations may be added.

New, unread, ungraded, and estimated to be in 9.2 to 9.4 condition. Minor printing flaws or defects may be present.
***In store customers, please review our online terms of sale if purchasing online as a pre-order. If you already subscribe to this title, please do not order it again. If you have questions please speak with a member of our team to arrange for a copy to be held for you without purchasing online, if you do not believe you have previously subscribed.
Synopsis: THE STAR WARS COMIC EVENT YOU'VE BEEN WAITING FOR! The notorious bounty hunter BOBA FETT has finally landed his greatest prize - HAN SOLO, frozen in carbonite for easy transport. Fett will bring the smuggler to TATOOINE to collect the massive bounty placed on Solo's head by the fearsome crime lord JABBA THE HUTT.  Sounds easy. What could go wrong?