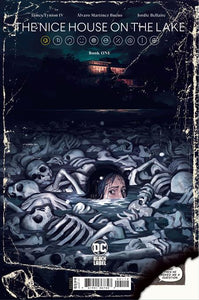 New, unread, ungraded, and estimated to be in 9.2 to 9.4 condition. Minor printing flaws or defects may be present.

Synopsis: 
(W) James Tynion IV (A/CA) Alvaro Martinez Bueno
Everyone who was invited to the house knows Walter—well, they know him a little, anyway. Some met him in childhood; some met him months ago. And Walter's always been a little…off. But after the hardest year of their lives, nobody was going to turn down Walter's invitation to an astonishingly beautiful house in the woods, overlooking an enormous sylvan lake. It's beautiful, it's opulent, it's private—so a week of putting up with Walter's weird little schemes and nicknames in exchange for the vacation of a lifetime? Why not? All of them were at that moment in their lives when they could feel themselves pulling away from their other friends; wouldn't a chance to reconnect be…nice? With Something Is Killing The Children and The Department of Truth, James Tynion IV has changed the face of horror in modern comics — now get ready for his most ambitious story yet, alongside his Detective Comics partner Álvaro Martínez Bueno!

***In store customers, please review our online terms of sale if purchasing online as a pre-order. If you already subscribe to this title, please do not order it again. If you have questions please spek with a member of our team to arrange for a copy to be held for you without purchasing online, if you do not believe you have previously subscribed.

Synopsis: (W) James Tynion IV (A/CA) Alvaro Martinez Bueno After the life-changing events of the previous issue, the guests at the nice house on the lake must decide their next steps—but there's not exactly perfect agreement about the situation. Who among them is ready to walk out the door? And who is content to simply…float?