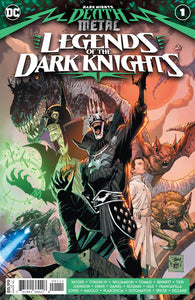 1st Full Appearance and Origin of the Robin King. 1st printing
New, unread, ungraded, and estimated to be in 9.2 to 9.4 condition. Minor printing flaws or defects may be present.
***In store customers, please review our online terms of sale if purchasing online as a pre-order. If you already subscribe to this title, please do not order it again. If you have questions, or looking for a specific cover; please speak with a member of our team to arrange for a copy to be held for you without purchasing online.
Synopsis: The DC Universe has become engulfed by the Dark Multiverse, where demons dwell and reality is overrun by monstrous versions of the Dark Knight, all ruled by the Batman Who Laughs. In this collection of short tales, learn the terrifying secrets of these new Bats out of hell and other creatures of the night like Robin King, whose origin is just the worst! Plus, read about the secret buried beneath Castle Bat, the sentient Batmobile, and…how did Batman turn into a dinosaur?